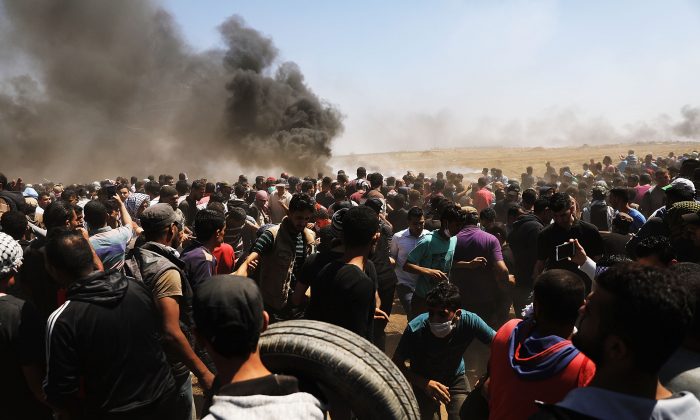 A radical student group tied to a front organization of Iran's Islamic Revolutionary Guards Corps (IRGC) is offering a $100,000 "prize" to destroy the new U.S. Embassy in Jerusalem. The organization put out its announcement in an image, which was picked up by major Iranian news outlets.
According to an English translation of the report from FARS News Agency, the semi-official voice of the Iranian regime, the Student Judicial Movement announced it would give the money to anyone who can "manipulate" the building.
It also notes that the student group asked a diplomat "to answer why there has not been any action against the blood of the new martyrs" or about "equipping the West Bank."
The student group is allegedly affiliated with Student Basij, part of Basij, a paramilitary force that takes its orders from the Iranian regime's IRGC and from the Supreme Leader of Iran.
Iran is the world's most prolific sponsor of terrorism, primarily through its IRGC, but also through its support for Hamas and Hezbollah. Among its key activities is the financing of terrorists and their families—including payments to families of suicide bombers.
The payments often go through nonprofit proxies to the government in Palestine, which then pays the terrorist families. Israeli Prime Minister Benjamin Netanyahu raised the issue during a March 6 speech at the American Israel Public Affairs Committee (AIPAC).
Netanyahu
stated
that Palestinian President Mahmoud Abbas pays close to $350 million a year to terrorists and their families. "That's about a little less than 10 percent of the total Palestinian budget. That's an incredible number," Netanyahu said.
"He pays Hakim Awad, the terrorist who murdered this beautiful family of Ehud and Ruth Fogel and their three children and a 3-month-old baby girl, he pays Hakim Awad, this murderer. Over the lifetime of this killer, he will be receiving $2 million.
"I have a message for President Abbas: Stop paying terrorists! Because what message does this send to Palestinian children? It says murder Jews and get rich!
"And I believe President Abbas should find better use for this money. To build roads, schools, hospitals, factories. Build life. Don't pay death."
In October 2017, the Trump administration designated the IRGC as a terrorist group. U.S. Department of Treasury Secretary Steven Mnuchin
said in a statement
that "the IRGC has played a central role to Iran becoming the world's foremost state sponsor of terror."
https://www.theepochtimes.com/iran-front-group-offers-100000-to-destroy-the-us-embassy-in-jerusalem_2525408.html