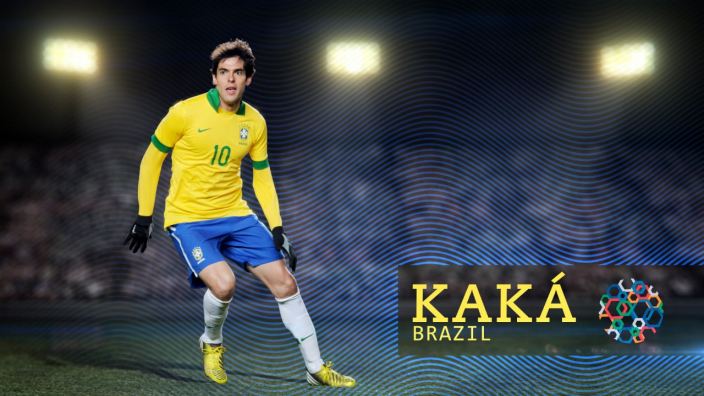 Lying in bed for two months with a broken neck, 18-year-old Ricardo Izecson dos Santos Leite made a list of 10 goals. These were audacious dreams even for a boy raised on the soccer mania of Brazil – especially one who had needed a medical program to spur his stunted growth and who was yet to crack the starting lineup of the junior squad of São Paulo Football Club. The list began with "Return to soccer" and scaled upward to finish with "Compete in the World Cup" and "Transfer to a big club in Italy or Germany."
In January 2001 about two weeks after returning to soccer he was called up to São Paulo's professional team. Brazil had met
Kaká
. (The nickname, pronounced Ka-kah', came when his older brother couldn't pronounce his name.) He claimed his starting spot for São Paulo and within two years could cross off the entire list of goals, including playing for Brazil's 2002 World Cup champions. By 2007 Kaká stood at the apex of world soccer, sweeping its highest individual honors: the FIFPro World Player of the Year, the Ballon d'Or for best in the world and the FIFA World Player of the Year.
"It may seem that I have everything," he says. "Due to my wealth and fame, some people ask why or if I still need Jesus. The answer is simple: I need Jesus every day of my life. His Word, the Bible, tells me that without Him, I can't do anything. I really believe that. The ability I have to play football and all that has resulted from it are gifts from God. He has given me a talent to use for Him, and I try to improve on it every day."
Kaká's star shot into the stratosphere in soccer-mad Brazil following his breakout game. The press couldn't get enough of him. After the initial shock, Kaká developed a warm accessibility with the press and fans, but he avoided the limelight and temptations of the nightclubs. His family and faith were his anchor.
"Many people think that I became a Christian after the accident, but that is not true," Kaká says. "My parents always taught me the Bible and its values, and also about Jesus Christ and faith."
Being baptized at 12 was an important milestone for Kaká and one that had a profound effect on his young spiritual life. "Little by little, I stopped simply hearing people talk about the Jesus my parents taught me," he says. "There came a time when I wanted to live my own experiences with God."
There's a common saying about soccer: "England invented it. The Brazilians perfected it." The Brazilian game is generally an artful, rhythmic flow marked by skillful dribbling and unexpected passing. The nation brought
joga bonita
, the beautiful game, to the world and holds more World Cup championships, five, than any other country.
European soccer is generally considered more physical and tactical than the South American game, but the 6-foot, 1-inch, 180-pound Kaká adapted instantly. His first season he earned a starting role.
Most media have shown respect for Kaká's faith and praised his sportsmanship. His consistency and graciousness matched with his stellar play make it difficult to do otherwise. Yet when some have suggested that his lifestyle is boring, Kaká has countered that it is radical to follow Christ. As Kaká continues to pursue new goals, he leaves little doubt that he is all about Jesus.
"Today, I have my ministry through sports, but I play because I have a God-given gift," he says. "I play because He has perfected the gift He gave me in my life. Jesus said 'without me, you can do nothing' and I believe this."